ORIGINAL TYPED MANUSCRIPT OF THE ED SCHIEFFELIN EXPEDITION TO ALASKA IN 1882

1882 hand typewritten letter to the San Francisco Bulletin, 1882. It is titled "The Heart of Alaska".
6 pages. Contents: Alaska expedition; prospecting; isolation in winter; bark canoes; instances of cannibalism; a species of reindeer; female children killed; an unfortunate outcast; fur bearing animals; flint headed arrows; Exquimaux and Chinese; traces of mastodons. The beginning paragraph reads "The Heart of Alaska. A talk with a man who knows about it. The great rivers and deep snows of the region. How the natives struggle to live - female children put to death - burdensome old people cast in the snow to die...."

It is interesting that the return date is not filled in. Charles Farciot didn't leave Alaska with the rest of the expedition. He decided to stay in Alaska for a couple extra years, and worked with Arthur Harper, Alfred Mayo, and Jack McQuesten.
I have a feeling that this letter may have been typed by Charles Farciot's brother-in-law, who photographed the expedition members as they were leaving San Francisco. It's likely that Farciot sent a hand-written letter from Alaska to Edouart and asked him to type it up and bring it to the San Francisco Bulletin for publication.

Good condition; paper is a bit yellowed due to age. $3500. plus postage and insurance.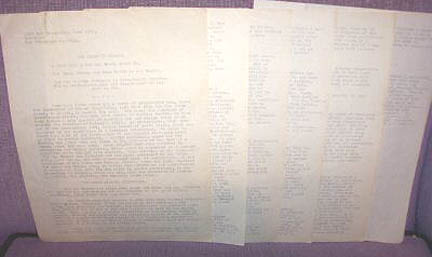 Provenance: from the estate of Alexander Farciot Edouart, who died in 1980. Alexander Farciot Edouart, winner of academy awards for his special effects, such as the parting of the Red Sea, was the grandson of the famous silhouette artist Augustin Edouart, and the son of famous San Francisco artist and photographer Alexander Joseph Edouart. This Alexander Joseph Edouart was the brother-in-law of Charles O. Farciot, member and photographer of the important Ed Schieffelin expedition to Alaska in 1882. Just before going to Alaska, expedition members had a group portrait taken at Alexander Joseph Edouartís photography studio. Edouart also published Charles Farciotís Arizona stereoviews (Jeremy Rowe).

Further reading:

Drysdale, A.C. From Tombstone to the Yukon: Ed Schieffelin's Alaskan Expedition, The Alaska Journal, Vol 13, No. 3 (Summer 1983)

Rowe, Jeremy. Following the Frontier from Arizona to Alaska: The Photographs of Charles O. Farciot, Stereo World, National Stereoscopic Association, January/February 1989, Volume 15, Number 6, pages 6-13.

http://www.vintagephoto.com/reference/ChFarciot%20Article.html